DANCE CAVISE COVID-19 PROTOCOL
Please take the time to familiarize yourself with the temporary, and permanent changes that we have made regarding the COVID pandemic since the Studio's reopening in Fall 2020.  We have made every effort to meet or exceed all requirements to keep you and our staff safe and healthy.
We urge you to be extra vigilant in helping to keep us all safe. If your school is closed due to COVID 19, or if you have been exposed at an extracurricular activity, YOU CANNOT ATTEND IN-STUDIO CLASSES. So you must switch to our virtual platform.
YOU CANNOT ATTEND IN STUDIO CLASSES if you, or a family member has tested positive for COVID 19 or if you or a family member has been exposed to someone with COVID 19. You must switch to our virtual platform.  In addition, always adhere to the New York State Travel and COVID protocol. 
Understand that additional changes will be made as needed as this is a fluid situation so please check back from time to time.
1. MERV-13 Hepa filters have been installed into our air conditioning systems. These EPA-approved filters are designed to trap 98% of all airborne particles. They use an electrostatic charge to eliminate bacteria down to .3 microns, including the COVID-19 virus. These filters will be replaced monthly.
2. Every studio and all common areas are equipped with a MEDIFY Air purifier with Hepa MERV-13 filtration.
3. We have hired NY Disinfecting Services to do ongoing decontamination of the facility. They will implement an advanced multi-step process using antimicrobial technology that kills viruses, including COVID-19. Surfaces will be coated with EPA approved Calia 1452, designed to kill COVID-19 and eliminate up to 99.9% of germs, bacteria and other harmful microbes. Once surfaces are treated, bacteria is not able to attach or grow on the treated surface for up to 60 days. We will implement this process regularly.
4. The front desk is protected by a new acrylic shield. However, we discourage parents and caregivers from visiting the lobby and prefer to answer your inquiries by phone or email.
5. All free-standing furniture has been temporarily removed from the lobby and downstairs to discourage social gathering.
6. Lobby areas and hallways have additional free-standing hand sanitizing stations, including Purell in the studios.
7. Hallways and stairways have directional markings to help ensure a safer traffic flow.
8. Posters are displayed throughout the studio to remind patrons of safety protocol including social distancing.
9. Studio floors are clearly marked in box shapes, with one student per box, to ensure social distancing between students during class.
10. Each studio is equipped with upgraded technology to live stream classes in real time for those choosing our virtual learning option. As a result, we can quickly move all classes to our virtual platform as needed. 
1. No one will be admitted into the Dance Cavise facility without a mask that covers both the nose and mouth. Everyone entering the building will have a contact-free temperature check.
2. ALL in-studio classes will have a strict 10 student limit. Students registering for filled classes may alternatively register for live streamed classes.
3. Class schedules are staggered and students will be admitted into the building one at a time to ensure social distancing. Students should not arrive more than 10 minutes prior to their class to assure a better traffic flow. Students must wait socially distanced outside.
4. Anyone entering the building will have a temperature check.
5. There will be NO check-in at the front desk. Instead, students will go directly to their assigned studio and settle on the box marked on the floor. All student belongings should be brought into the studio and contained in their own dance bag/backpack etc.
6. We request that parents, caregivers and siblings refrain from entering and waiting in the facility unless absolutely necessary.
7. Classes have been scheduled as best as possible so that there is no or minimal wait time for most students. If a student must wait between classes, it must be done in designated areas , at least 6 feet apart, and must keep their mask on. Students may also opt to leave the studio between classes.
8. All social gathering areas such as the dressing room and homework room, as well as the downstairs bathrooms, will be closed until further notice. There are two bathrooms on the main level which are accessible.
9. Students attending classes should travel light, leaving non-essentials at home. They should come dressed in dance attire, with hair up, and all personal belongings carried inside their dance bag.
10. Administrative staff will be disinfecting highly touched surfaces, such as handrails door openings, and bathroom faucets through out the day and evening. Teachers will be disinfecting stereos and ballet barres between each class.
11. Our water fountains are disabled until further notice. Students may bring water bottles, if needed, and should be properly labeled.
12. The boutique will be open on a limited basis, and by appointment only.  We have all uniforms and shoes, with fashion items, in stock. We strongly encourage you to purchase dance attire prior to the first day of class. The boutique will be closed during class time.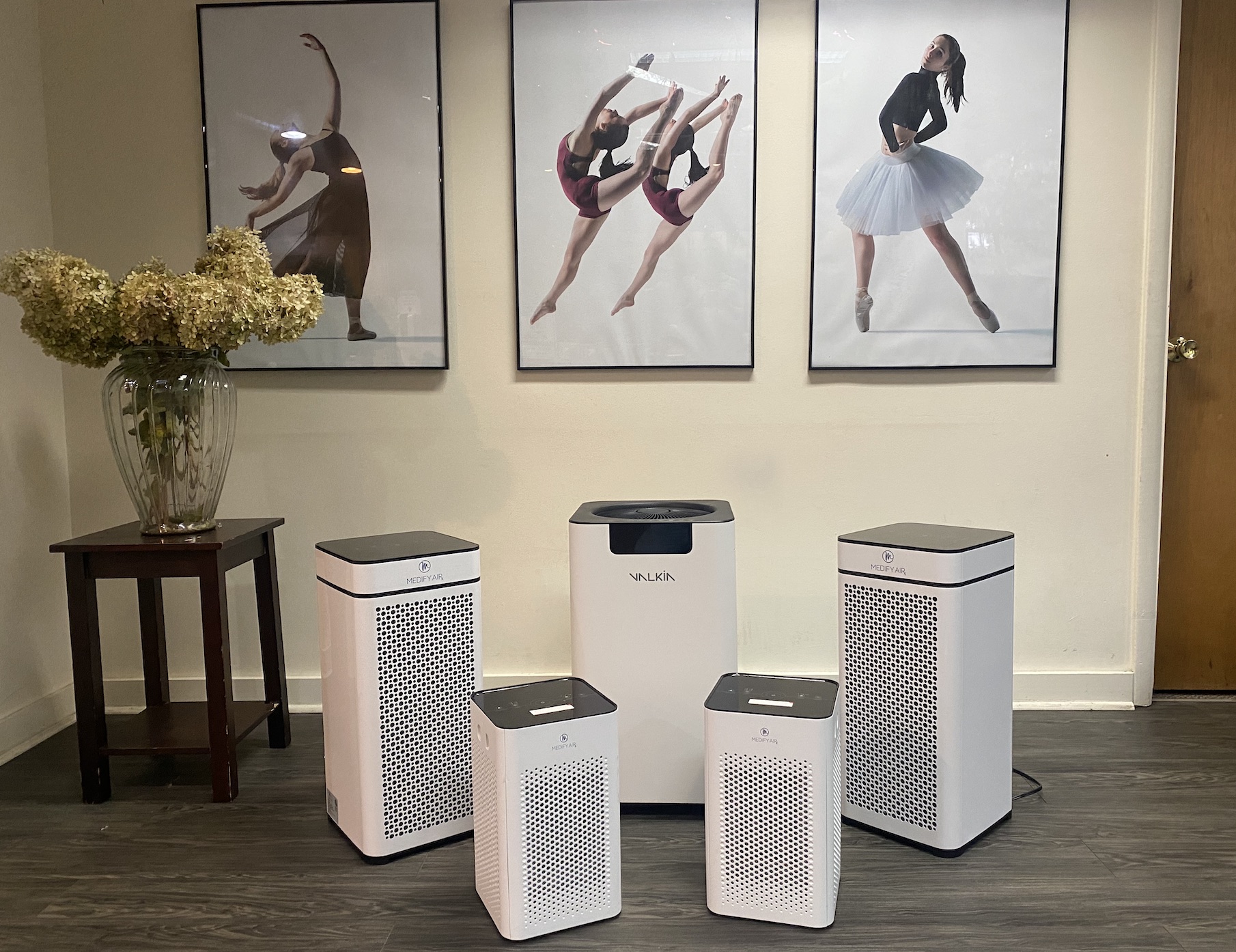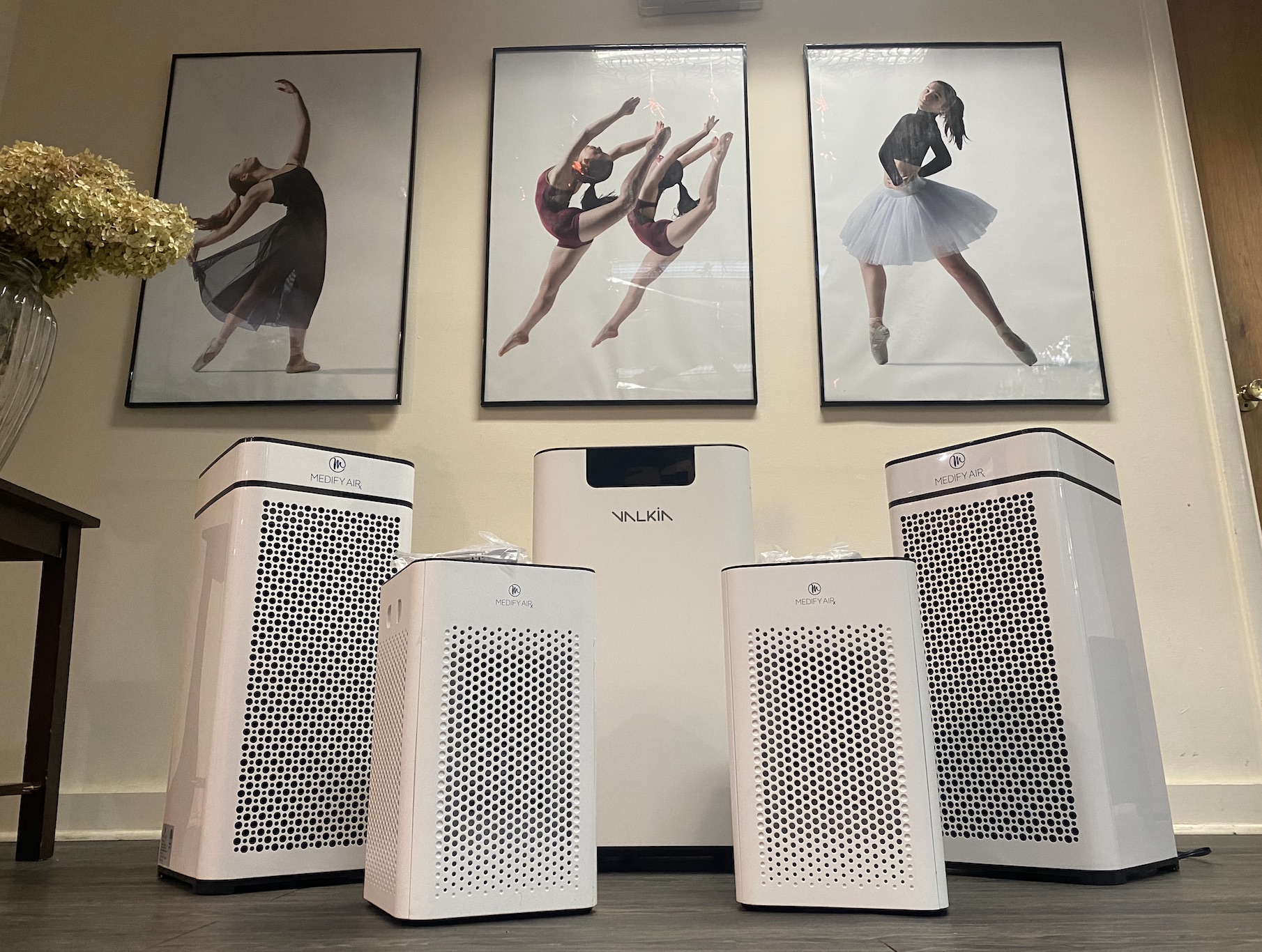 STUDENT EXPECTATIONS AND MODIFICATIONS 
1. All Dance Cavise students must sign and return the COVID-19 waiver stating personal guidelines prior to taking your first class.
2. Students must wear a mask, wash hands, or use hand sanitizer before and after each class.
3. Please do NOT attend classes, or come to the studio, if you answer yes to any of the following questions. Our staff will also follow the same procedure.
–Have you had a fever over 100 degrees in the last 24 hours before arriving at the studio?
–Do you currently have, or recently had, any respiratory or flu-like symptoms, sore throat, chills or shortness of breath?
–Have you been in contact with anyone in the last 14 days who has been diagnosed with COVID-19 or had COVID symptoms?
4. In the event that a student, or family member, tests positive for COVID-19 or has been exposed to someone with COVID-19, you must refrain for taking class for a minimum of 14 days or until two negative COVID-19 results are found. In the meantime, you will be able to take class via ZOOM. In addition, you must alert Dance Cavise for the protection of staff and students. Your name will be kept confidential.
5. Students with wait time between classes will be asked to wear a face mask and sit in designated areas adhering to social distancing, or to wait outside.
6. The dressing room will be closed until further notice. So students should come to the studio wearing their dance attire.
7. Students should bring their own water as the water fountains have been disabled.
Thank you for your attention and cooperation during this unique time. This page will be updated as needed so please check back.